Descrizione
Villa Gemma
MONTEPULCIANO D'ABRUZZO DOC RISERVA
The flagship of the company is the line that best embodies the style and taste of winemaker Gianni Masciarelli. Austere and important, Montepulciano D'Abruzzo Villa Gemma Rosso provides an unprecedented interpretation of this great autochthonous vine, helping it to be included in the map of the world viticulture that counts. Next to it, as if to balance so much complexity and body, two fresh and lively wines: Villa Gemma Bianco and Villa Gemma Cerasuolo.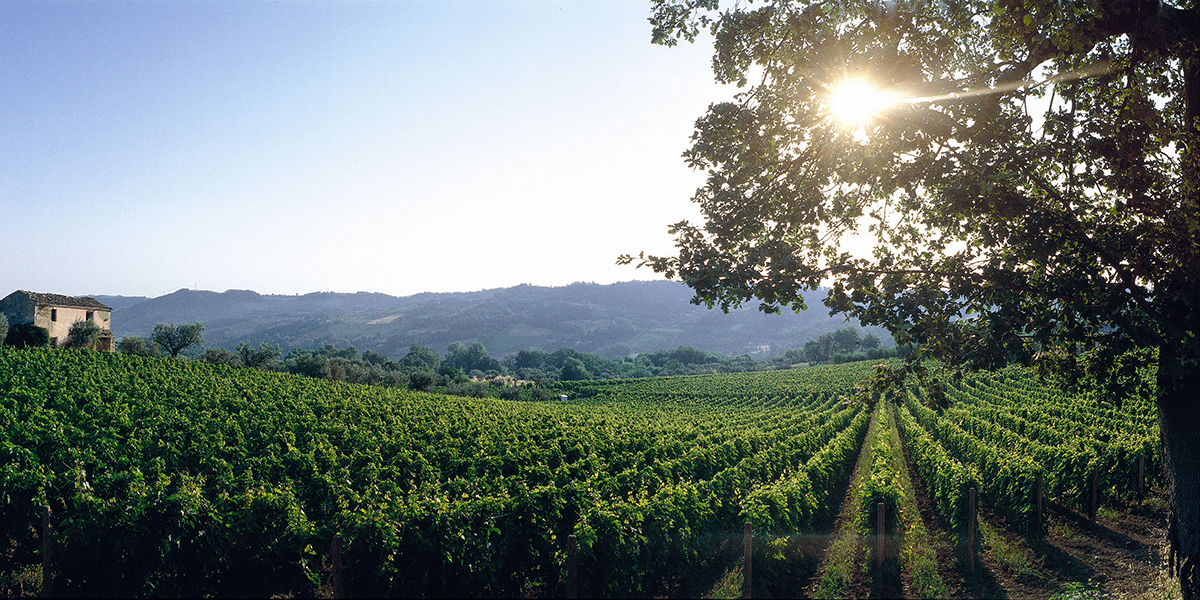 Name: Montepulciano d'Abruzzo DOC Villa Gemma Rosso Riserva
Grapes: Montepulciano d'Abruzzo 100%
Alcohol content: 14.50%
First year of production: 1984
Number of bottles produced: 18.820 0.75 lt. – 500 Magnum – 120 jeroboam
Municipality of production and altitude of vineyards: S. Martino S. Marrucina, 400 mt s.l.
Soil type of vineyards: clay / calcareous
Yield per hectare: 80 quintals
Training system: Plain Guyot
Time of harvest: End of October
Fermentation: stainless steel tank till 1996 and wood from 1997, since 2013 in stainless steel. Aging for 36 months, 18/24 in barriques, then 2/3 years in bottle.
Best Italian Red Wine 2000 Villa Gemma '95
Tre Bicchieri '92, '93, '94, '95, '97, '98, '99, '00, '01, '03, '04, '05, '06
5 Grappoli Villa Gemma '00 (AIS Duemilavini '05)
5 Grappoli Villa Gemma '03 (AIS Duemilavini '07)
5 Grappoli Villa Gemma '05 (AIS Duemilavini '09)
5 Grappoli Villa Gemma '06 (AIS Duemilavini '10)
100 Best Wines in the World, '98, '00, '01
Parker, points 91 / Villa Gemma 2000
Parker, points 91 / Villa Gemma 2004
Parker, points 90 / Villa Gemma 2005
Parker, points 92+ / Villa Gemma 2006
Wine Spectator, points 92 / Villa Gemma 1998
Wine Spectator, points 91 / Villa Gemma 2004
Wine Enthusiast, points 95 / Villa Gemma 2001
Wine Enthusiast, points 90 / Villa Gemma 2000
Wine Enthusiast, points 95 / Villa Gemma 2004
Gold Medals Korea Wine Challenge '08 / Villa Gemma 2003
Silver Medals London International Wine Challenge '08, points 95/100 / Villa Gemma 2004
Falstaff Magazine, September '08, points 95/100 / Villa Gemma 2004
Super Tre Stelle Guida Oro I Vini Veronelli '09 / Villa Gemma 2005
Wine Enthusiast Top Cellar Selection Wines of '09, points 95 / Villa Gemma
Falstaff Magazine July '10, points 95 / Villa Gemma 2005